Uniquely Designed Hybrid Black Finn Raccoon Fur Parkas for Stylish Men with Rabbit Liner
SKU :
HBDBLKFINRCONFURPARK
Hybrid Black Finn Raccoon as the name suggests – is sourced from Finland in Europe. It possesses an exceptionally soft and supple texture and is very lightweight. The fur also offers sufficient warmth and comfort even in extreme low temperature conditions. The item has a massive demand in fashion industry all over the world.
An exotic range of black hybrid parka convertibles made from authentic plates of Finn raccoon fur imported from Europe is redefining fashion trends among men. The product line is designed with exceptional innovation and creativity. The parka radiates unparalleled sophistication and style to belong to a completely different class altogether. The rich patch of fur running along the rim of the parka frontline as well as the hood makes the item unbelievably elegant and eye-catchy.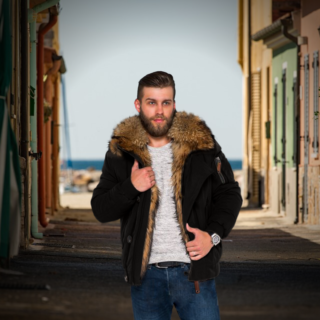 The Hybrid Black Finn Raccoon is available in a wide variation of sizes. Perfect fit is guaranteed without considering individual height or structure. The product line is completely crafted by hands. Decked with plush chromium zippers, the parka is designed to capture everyone's attention on you. Highly skilled and trained experts have worked with ultimate precision and care to create an impeccable product line that boasts of absolutely perfect finishing. Thanks to the innovative designing, you can wear the item in more than one way depending on the circumstance. It can also replace a proper dress easily.
Both the parka frontline and the liner are detachable. You can slip on the inner vest separately as a completely independent unit. The shell is made of superior quality nylon that offers 100% resistance to water and moisture. In different words the stylish parka also caters as an exclusively chic and elegant raincoat or windcheater. Unlike the other competitors, this parka allows you custom choose both the color and the quality of the fur for the inner parka vest. However the fur along the rim of the hood and the frontline is static. A wide and stunning range of options is offered at the time of placing a purchase order to make those selections easily.
The unbelievably elegant parka perfectly underlines your rich taste and delicate choice related to fashion. It is cut and stitched smartly to make your shoulders look broader while the waistline thinner. The parka is indeed your best option to appear manlier, fitter, more attractive and charming.
Limited stocks at Alen Cooper are steadily vanishing away. Place your order now before the last piece gets sold out!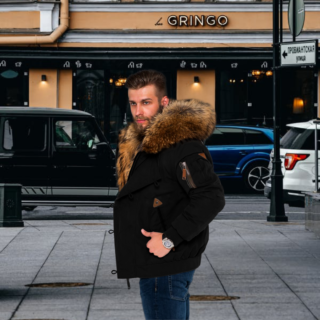 Made from authentic plates of Finn raccoon fur imported from Finland in Europe
Exclusively soft and supple in texture
Very warm and comfortable even in extreme cold outdoors
Ideal for harsh wintry climates where the temperature dips much below the freezing point
Easily long-lasting
Requires minimal care and maintenance
Studded with plush chromium zippers
The rich patch of fur running along the rim of the hood and that of the frontline gives the parka a unique elegance and charm
Thoroughly crafted by hands
Highly trained and skilled experts have done the entire cutting and stitching with paramount care and precision
Absolutely flawless finishing
Available in a wide range of sizes
Perfect fit is assured for everyone without considering individual height or structure
The parka radiates unparalleled sophistication and manliness to belong to a class of its own
The product line beats every other competitor in innovation and creativity that went into the designing
The parka is ideal to wear to attend different types of social gatherings or events
Unlike every other variety that exists, you can wear this one in a number of ways depending on the circumstance
You can easily replace a proper dress with this innovatively designed item
The liner as well as the parka frontline is detachable
You can put on the inner vest separately as a completely independent unit
The shell is made of higher grade nylon that offers 100% resistance to water or moisture
In straighter words, the item also doubles as a reliable raincoat or windcheater although much more chic and stylish than the standard varieties
The parka perfectly reflects your delicate choice and unique choice in fashion-related matters
Unlike any other product of the same category, the parka allows you custom choose both the quality and the color of the fur for the inner vest
Although the fur along the trim of the hood and the frontline is static
A wide and stunning range of options is given at the time of placing a purchase order to make those selections easily
The item is smartly cut and stitched to make you appear more masculine and attractive with broader shoulders and a thinner waistline
The parka is the most assured option to look manlier, more charming and fitter