We at Alen Cooper want everyone to have the chance to own a beautiful Luxurious Fur Coats/Jackets or High End Italian Finish Leather Jackets/Coats or Upscale Doubleface Shearling Coats/Jackets and we have two options that will allow you to have the fur of your dreams divided up into payments.
LAYAWAY YOUR FUR WITH ALEN COOPER
The  Layaway plan is a great way to buy the Item you want, whether for yourself or as a gift. Start now and budget for holiday purchases, anniversaries, birthdays, vacations and more! Your item will be all yours once it's paid in full! It's quick, easy and FREE! No credit check required!
HOW IT WORKS:
To make a layaway online, make sure you are signed into your account. Guest checkout is also allowed for layaway purchases but it is always better to create an account and login so that after your first transaction you can login to the Dashboard to check details of your Orders or Layaways.
Once you are logged in, shop around at www.alencooper.com. When you are done with all your shopping,
click 'PROCEED TO CHECKOUT' at the bottom of the page.
Once you're in the shopping cart, complete all the necessary information. On the left hand side you'll check the box that says, LAYAWAY PAYMENT PLAN',
Check the box 'Terms & Conditions of Sale', and check the box 'Terms & Conditions of Layaway'
Click 'PLACE ORDER' —– takes you to the PAYMENT PLAN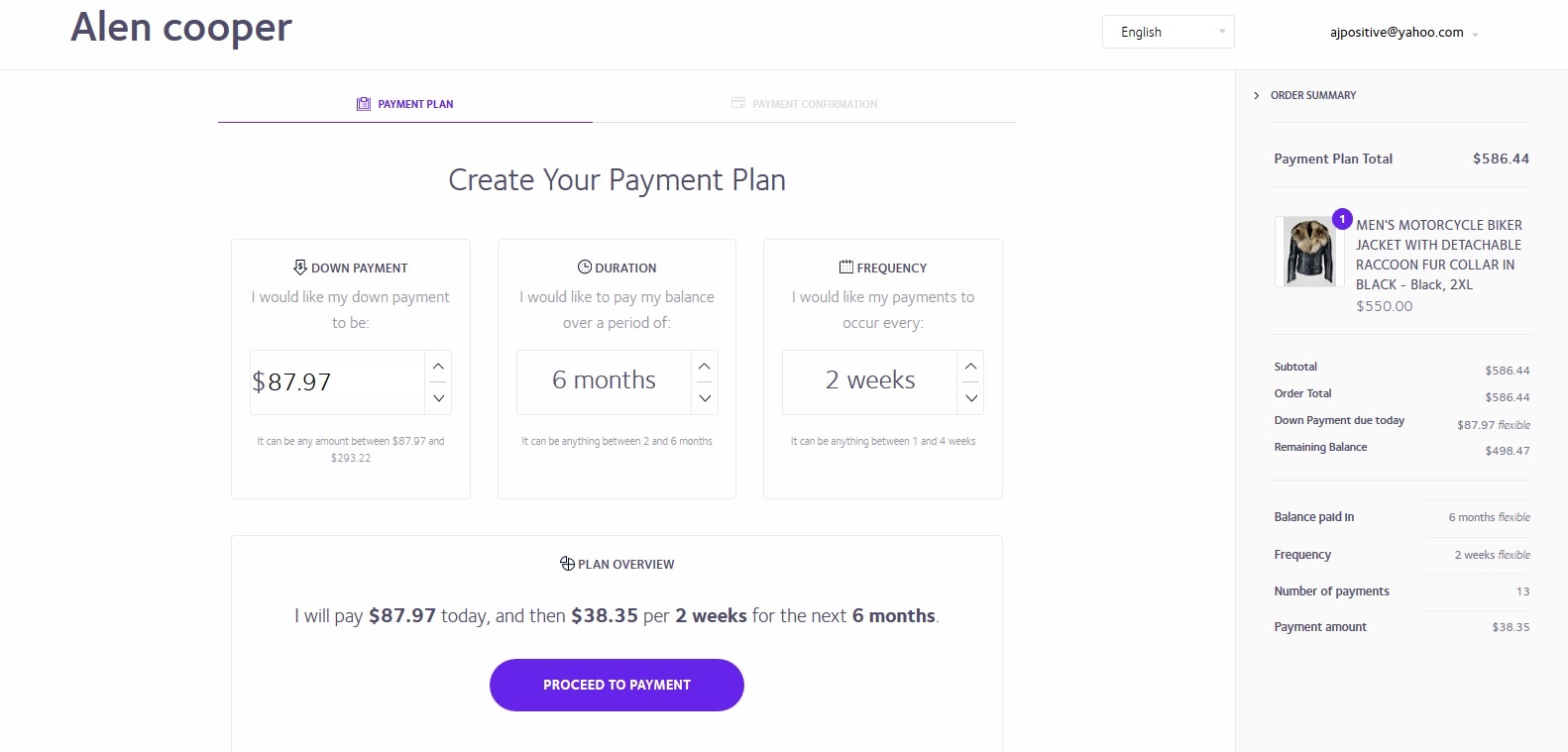 DOWN PAYMENT,
DURATION OF THE LAYAWAY Between 1-6 Months
FREQUENCY OF PAYMENTS —  Between 1-4 Weeks
Click PROCEED TO PAYMENT
TYPE IN YOUR CREDIT CARD INFORMATION
AGREE TO Terms & Conditions
SIGN YOUR NAME
Click PROCESS DOWN PAYMENT
CONGRATULATIONS YOU COMPLETED A SUCCESSFUL LAYAWAY
WHEN WILL MY CREDIT CARD BE CHARGED?
INITIAL PAYMENT:
The first Layaway installment is a percentage amount of the total purchase price you set and will be billed on the date the Layaway is initiated. When you initially place your order, Alen Cooper will request authorization from your Credit Card Company or bank for the amount of just the down payment, not the total purchase amount.
MONTHLY PAYMENTS:
Payments are made on the schedule YOU set! We pride ourselves on allowing flexible payments. As long as you are making consistent monthly payments, your account is considered in good standing.
Since we offer flexible payments, You are  automatically charge card each month on the same credit card that you used for your first payment. You need to make sure sufficient funds are available during the  entire term of the  payback period. If for any reason payment is declined, you are responsible to provide a alternative valid payment method.
Once you have made your final payment, your item will be shipped the next business day.
WHEN WILL I RECEIVE MY PURCHASE?
You will receive your purchase after the final payment is made. While customers usually receive their purchases within 5-7 business days.
CONTRACT TERMS:
All Layaways are Non-Refundable. There are no Cancellations or Exchanges on Layaway Items. The undersigned is making a layaway purchase, and all payments made now or hereafter shall be applied to the unpaid balance. Seller shall retain goods until the unpaid balance is paid in full. The balance is to be paid in equal monthly installments according to the terms agreed upon. The item(s) will be returned to stock if the customer misses more than one payment unless other arrangements are made prior that are agreed upon by both parties. If this occurs, all monies paid will be credited to customer in the form of an in-store credit which must be redeemed within (90) days from the date of Store Credit issued by paying the balance in full for the Layaway Balance. If this is not done, all monies will be forfeited.