Ladies' Golden Island Fox Fur Hybrid Black Bomber Jacket with Rabbit Liner Convertibles Reflect Grandeur
SKU :
GLDILFXFRHYBIDBLKBOMB
This is a Special/Customized Order. 
DELIVERY: 2 to 3 weeks from the day of receipt of Order. 

Golden island fox fur is sourced from Scandinavia in Europe. The fur has a reddish orange shade with soft, silky texture. It keeps you insulated even in harsh chilly weather outdoors and is known for high durability. The costly item has impressive demand in fashion industry.
Blending style with day to day functionality, a unique version of Golden island fox fur hybrid black bomber jacket convertibles for women has arrives in the market. The product range is gorgeous as every effort has been taken to make you look more divine, more aristocratic and sexier in it. The rich patch of fur along the trim of the hood and the frontline invariably makes you the centre of attraction in any crowd.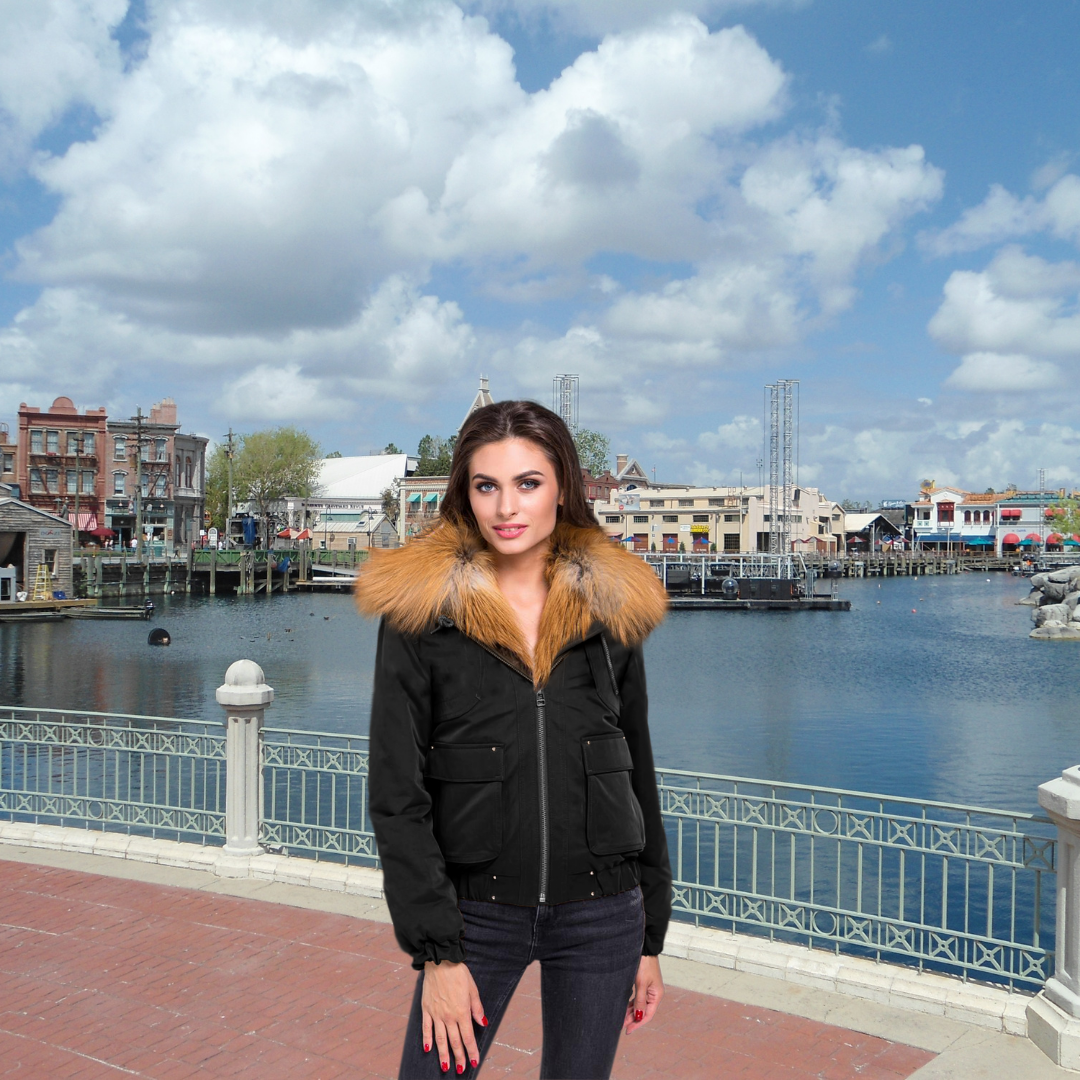 Both the frontline and the liner are detachable so that you can slip on the inner vest as a completely separate and independent dressing unit whenever you want. While placing an order you are expected to custom choose both the color and the quality of fur for the inner vest although the trim of the fur along hood and the frontline is static. The jacket also doubles as a reliable raincoat or windcheater; the shell is totally water resistant and made of good grade nylon.
Studded with chromium zippers, these bomber jackets are smartly crafted to underline your feminine curves and assets in a tasteful and elegant manner. It is your best option to look sexier in a refined and classy way. The smartly designed jacket is a hybrid of parka and jacket and you can wear it in a number of ways depending on your mood. You can use it as a proper dress and can attend different types of social gatherings and events in it. Available in different sizes to ensure perfect fit irrespective of your height and structure.
Stocks are flying off the shelves at Alen Cooper. Book now to avoid shipping delay!
Made from original Golden island fox fur plates
The rich patch of fur along the trim of the hood and the frontline radiates elegance and attracts attention from all quarters
Soft, silky and shiny texture
Warm and lightweight
Smartly designed as a hybrid between a parka and a jacket
You can also rely on it as a proper dress
Ideal for low temperatures ranging to minus 40 degrees
Long-lasting and requires minimal care and maintenance
Radiates an unparalleled class and elegance
Chromium zippers
Possible to wear in different ways depending on your mood
Possible to customize both the color and the type of the fur for the inner vest
However the fur along the trim of the frontline and that along the hood are static
Available in range of sizes
Perfect fit guaranteed irrespective of your physical appearance
Both the frontline and the liner are detachable
Possible to slip on the inner vest as a separate and completely independent dressing unit
The shell is made of good quality nylon and is absolutely resistant to water and moisture
You can also rely on the jacket as an exceptionally chic and stylish raincoat or windcheater
Smartly crafted to underline your feminine curves and shapes in a descent and tasteful way
Your best bet to appear sexier and more elegant
Cut and stitched by expert hands with great care and precision
Perfect finishing