Shearling is invariably sourced from young lambs and is also fondly referred to as lambskin. The wool of this fabric is trimmed to uniform length but it is left on the hide. In other words, the hide or skin is tanned along with the wool attached to it. The tanned side is worn outside while the woolen side is worn on the inside. As a matter of fact, the fabric offers considerable warmth and comfort even in freezing cold. It is also unbelievably soft and supple in texture. The lightweight item is easy to carry. Moreover, the fabric lasts exceptionally long, for years at a stretch, with minimal care and maintenance.
The varieties
Considering all these facts, it is obvious that the fabric has a never-ending demand in fashion industry. As such, these pelts are produced all over the world but the best quality comes from Europe. The most popular varieties of the fabric that comes from Europe include Merino, Enterfino, Rasado, Corto and Toscana. As such, all these varieties are sourced from Spain.
The merino variety is sourced from comparatively older sheep but yet it has a dense and soft wool quality.
Enterfino – on the other hand – is much thicker and denser than the rest. The wool is also somewhat heavier and definitely more rigid.
The Rasado variety is the softest and the lightest among all the varieties. It is exclusively sourced from the youngest lambs.
In Spanish, corto means short; the Corto variety of the fabric has short wool while Toscana has longer wool. As such, both these varieties are sourced from young lambs but the latter is the costliest in the market.
In terms of warmth and comfort, the Rasado variety obviously offers the least warmth and comfort. In fact, it is the most delicate as well as the lightest variety of shearling.
Merino is warmer and also little heavier and that is because of the wool density.
The Toscana variety with long hair is the warmest and softest apart from being significantly lightweight. This costly variety is mostly used in manufacturing of high-end garments.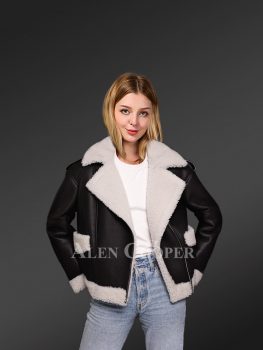 Instead of choosing shearling garments on basis of price, highly skilled and competent craftsmen having years of experience in making Toscana Shearling jackets for women have something important to suggest. According to them you must select this range of dressing items based on the climate you live in.
For example, Rasado is ideal for regions that have mild winters Merino is better suitable for colder climates because it offers much more warmth and comfort. Lambskin garments are invariably expensive. Therefore whenever you invest your hard-earned money in this version of dresses, make sure you are buying superior quality and expert craftsmanship.
Easy cleaning tips
The most assured way to properly cleaning shearling dressing items is approaching a professional dry cleaner. They are very knowledgeable as well as properly equipped to remove dirt and stains from the fabric surface. However, if your jacket is slightly soiled then it is a smart approach to avoid professional help and try tackling it yourself. Here are some tried and tested tips on general shearling care.
Your lambskin coats and jackets must be cleaned thoroughly before being stored in the wardrobe in early spring. Consider giving it a couple of cleanings a year to avoid dirt buildup. When it gets real dirty then you have no better choice than to foot the bill of a professional dry cleaner.
A suede stone is a reliable tool to scour off dirty patches as well as scuff marks. Even a cleaning brush is good enough in place of suede stone. Cleaning the insides of the jacket is also crucial. Use a dry rag to brush off the wool inside the dressing item. If there is a tough stain on the woolen side, use a clean, damp rug to remove it. If water proves insufficient in dealing with a stain, add a little wool cleanse to the water. The solution usually takes care of hard stains pretty easily.
Always allow your shearling coat or jacket to dry normally in air. If the wool lining is excessively wet turn the jacket inside out. Two things are never ever to done – putting a lambskin coat in a washing machine and putting it in a dryer. These two are the surest ways to ruin this range of garments. Neither held these jackets near a fire or heater for faster drying. The heat invariably damages the leather.
Never ever store this range of clothing items in plastic. Always make sure to use a bag that is made from any breathable item, say cloth for example, to store it. Even a cardboard box is perfect for the purpose. Use a heavy-duty hanger to allow your lambskin garment hang normally as well as loosely.
If you follow these basic footprints, there is absolutely no reason why your lambskin coat or jacket won't last for lifetime.
Trending design innovation in shearling jackets
A wide and fascinating range of innovatively designed shearling jackets is creating tremors in fashion circuits. As far as the latest design trend is concerned, the inner woolen layer of the fabric is flipped and exposed to define the collar, the lapel, the frontline, the bottom edge and the cuffs around the wrists of a jacket. This design element creates a powerful contrast that makes the stylish warm clothing item even more tasteful and appealing.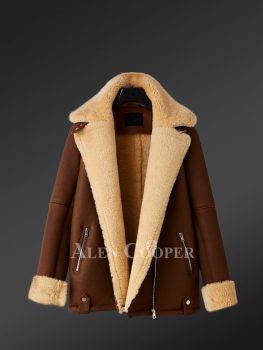 By virtue of tremendous creativity in designing, you can wear this range of jackets as a proper dress. The product line is completely designed by hands. Lots of love and care are involved in the designing to ensure the product range strikes the right balance between aesthetic appeal and practical functionality. Mostly high quality chromium-finish zippers are relied upon to provide insulation inside the garments. Invariably there has to be spacious hand-warming side pockets to keep your palms warm and comfortable in outdoors during extreme cold.
This latest range of stylish lambskin coats undeniably radiates unparalleled style and sophistication. In other words the chic item range rightly belongs to a completely different class of its own. You can wear the winter jacket as a proper dress and can even attend different types of social gatherings or parties wearing it.
Unlike the standard versions of the product in the market, this clothing range guarantees perfect fit for everyone without considering your individual figure or height. The product line reflects absolutely flawless finishing. As such, no stone is left unturned in product designing to ensure value for money.