Shearling – also known as lambskin – is widely used in clothing since the onset of civilization. Initially man was drawn to it because of the warmth and comfort it provides. Gradually fashion elements crept in and the fabric started being as a component of considered high fashion. Since the day the first lambskin jacket was designed, the clothing item became a universal symbol of style and grandeur.
Lambskin is timeless
This particular fiber has a delicate charm that fashion-conscious folks find almost impossible to deny. As far as this fabric is considered, it can be safely predicted you invest in one today and in course of time can proudly hand it over to your grandkids as your heirloom. Interestingly, the jacket has not changed much over the ages but certainly the ways to carry it have changed drastically with time. Even the occasions to wear it have changed too.
There was a time when this range of winter clothing was worn during bitter wintry days. By the way the item offers sufficient warmth and insulation even in extreme cold when the temperature dips much below the freezing point. These days the fabric is properly treated to make the jackets wearable almost round the year.
In the following section of this blog post let us explore few tips of wearing this range of jackets to get attracted any time anywhere.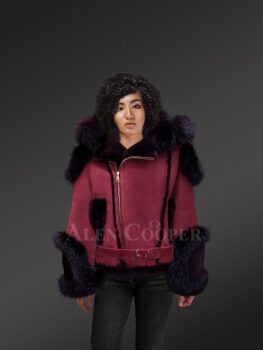 Casual, effortless look
Lambskin is the ongoing craze in the world of style and fashion. Believe it or not these days street fashion in winters is never complete without a shearling jacket just like icing on the top. This range of winter clothing items invariably keeps you insulated, warm and comfortable throughout the day as well as the night. In addition to that it also brings lively and energetic vibes to lift your mood resulting from a dull outfit.
As far as street style is considered, on any given day just pair your lambskin jacket with a pair of ripped jeans. You may even consider a basic tee in any neutral shade to make the combination of ripped denim and lambskin jacket even more appealing. A black, white or even a grey t-shirt provides a huge mileage. In order to complete the look select a pair of attractive boots followed by sling a cross-body bag to finish your trendy, retro look, suggest designers crafting leather shearling aviator jackets for women.
Pairing with a pencil skirt to highlight your femininity
The lambskin apparel was initially designed for men. It was considered very masculine and obviously exhibited one's social status. However the fairer sex was never late in jumping on the bandwagon. Gradually they defined and refined their own style.
Considering the early association of men with the fabric, a section of women prefer adding minute details of their own to make the jackets look little more feminine. One of the best ways to achieve this is pairing the jacket with a pencil skirt.
Make sure the pencil skirt you choose makes a striking contrast to the jacket. Top up the combination with a black blouse. As far as footwear is concerned, lace up some chunky boots. As fashion accessory is concerned, get hold of a bag that is of the same color as the skirt. To add to the mystery consider wearing a pair of sunglasses as well.
Bold is beautiful
The fabric provides immense space to apply your creative mind to go innovative with you fashion statements. You can use your accessories in lots of ways with a lambskin jacket to rightly expose your tasteful mind. Even the rest of your clothing gets sufficient scope to exhibit itself without much struggle.  Always try pairing this range of plush fabric items with items that are minimalistic. Select the other dressing items that blend seamlessly with your lambskin so that the item gets the entire spotlight every time.
This range of fashionable jackets goes splendid with skinny black jeans and neutral tees.  You can back up the footwear with long and high-heeled black boots.
Smart fashion statements never overlook practical functionality. Lambskin dresses are ideal for chilly, wintry evenings. So whether you are dressing for a winter barbecue night or plan stargazing with your significant other, lambskin jackets are just ideal for any occasion. The fashion merchandise will not only keep you warm and cozy all the time but also keeps you high on fashion.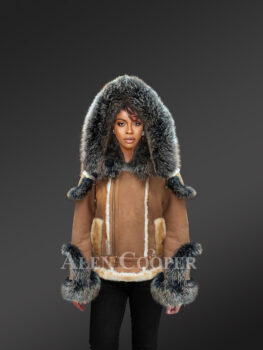 Remember there are classic pieces too
Working out your own style may take little time and that is highly normal. If you like lambskin range of clothing but not very sure how to wear them the right way then you should start with something that is classic as well as simple in look.
For starters combining a plain white tee shirt with a pair of jeans is a tried and tested way to look fresh without investing much effort. You can include your gorgeous lambskin jacket with that combination to take your first baby steps smartly. In fact this is one of the most assured ways to style the variety of jackets without spending much time and effort.
Now we're almost at the fag end of this blog post. By now you must have realized styling a lambskin jacket or coat is not a massive challenge. There are plenty of ways you can do it, assures designers experienced in crafting shearling leather jackets for women. And probably this is the reason why this version of fashionable merchandises has remained so popular over the ages.
Follow the tips discussed above and do feel free to reach out to us in case you want to clarify something or add your own version to the story.