The grand festive season is approaching fast. A brand New Year is just about to roll out as chimes of the Christmas bell are heard from a distance. Slowly but steadily lighting and decoration are coming up across both shops and homes slowly but steadily. But the Corona virus pandemic proves to be a major dampener to the upcoming festive spirit. The retail industry is most badly hurt. Considering the overall circumstance everybody is anticipating a very unlikely holiday season this year. In this unfavorable situation what fashion houses are planning to attract customers? Ofcourse innovation is the key to designing fresh products to attract customers in large numbers. As the latest feat in this innovation a striking version of leather biker jackets designed for women is right on the stands. The product line is chic but more than that it is unbelievably appealing with easily detachable fur collar.
Innovative blend of leather and fur
This impressive range of winter dressing merchandises is fast redefining fashion trends for stylish divas this Christmas. One of the most striking design elements in the product line is the removable Finn raccoon fur collar. Authentic plates of raccoon fur imported all the way from Finland in Europe are used in designing the collar of the leather jacket.
More about the fur
Finn raccoon fur is one of the most expensive items under the category and renowned for its luxuriously soft and supple texture. Moreover it offers much warmth, comfort and insulation even in extreme cold climates where the temperature dips much below the freezing point for months together. The item is also very lightweight and easy to carry. All these factors make it one of the most sough-after items in the range of fur across the domain of global fashion industry.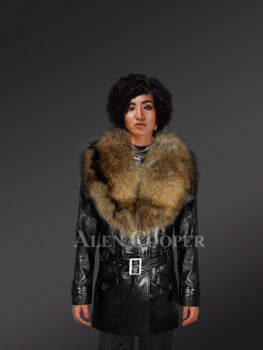 Italian-finish leather
The leather biker jacket in question is made of authentic Italian-finish leather. It is exceptionally soft and supple in texture. The quality leather also reflects a unique shine and has a lively appearance. A lot of creative ideas and innovation went in designing the impressive product line. The jackets look unbelievably classy and radiate unbeatable style and elegance. In fact it rightly belongs to a completely separate class of its own.
 Hand crafted and genuine Italian craftsmanship
The entire range of these leather biker jackets with detachable fur collar is thoroughly crafted by hands. The item range is one of the latest specimens of 100% genuine Italian craftsmanship. By virtue of innovative designing you can easily replace a proper dress with the jacket. Unlike the other standard versions of the item you can also wear it to attend different varieties of social gatherings or parties.
Absolutely perfect finishing
A group of highly skilled and competent designers based in Italy carried out the entire responsibility of cutting and stitching using their hands. They involved towering heights of care, caution, precision and diligence. This is obvious because the item range reflects absolutely flawless finishing. As already mentioned above, the fur collar is one of the most striking features of the product line that radiates a powerful magnetic effect.
Easily removable fur collar
Unlike the other ranges of the item that are available you can wear this biker jacket in ways more than one depending on your mood and the weather. On windy, wintry days when you need great warmth, comfort and insulation wear the Moto jacket along with the fur collar. Alternatively on normal days you can easily remove the zippered out fur collar to wear only the basic leather jacket. Thus the motorcycle jacket allows you redefine your style statements in different ways.
Perfect fit guaranteed for everyone
The product line strikes the perfect balance between aesthetic appeal and practical functionality. One of the interesting design features is those spacious, hand-warming side pockets. Those pockets are meant to keep your palms warm and comfortable in outdoors during extreme cold weather conditions. Unlike the other ranges of the product this motorcycle leather jacket guarantees perfect fit for everyone without considering your height or figure.
Trendy, stylish and durable
In other words the item is readily available in a wide variation of size. Premium quality leather used in designing the chic product line has thickness ranging between 0.8 to 0.9 mm. Moreover, it comes with superior aniline finishing. In other words the plush winter jacket requires minimal care and maintenance to last over the years.
Boost both your physical appearance and aura
To cut a long story short no stone has been left unturned while designing the product assortment to ensure higher value for your money. The innovative crafted stylish winter wear correctly showcases your delicate taste and rich choice in matters related to fashion. This extremely fashionable Moto jacket not only uplifts your physical appearance but also boosts your overall personality along with confidence level.
Look trendier, smarter, younger and sultrier
Smartly cut and stitched by experienced and skilled pairs of hands the product line silently but surely highlights those feminine curves and assets in your body in a tasteful and polished manner. In fact this impressive version of women's leather biker jackets with removable fur collar is your most assured bet to appear younger, sexier, smarter, trendier, sultrier, more seductive, polished, dignified, stylish and tasteful. The innovatively crafted item seems to have been designed to help you standout in any crowd reflecting unparalleled sophistication and charm.
Limited stocks of the item at Alen Cooper are fast vanishing away. Orders are pouring in from all sides in thick numbers. Place your order now before the last item gets sold out.