Good quality leather jackets are a reliable winter garment. They offer much warmth and comfort even in harsh chilly conditions where the temperature stays much below the freezing point. But winter and snow are just so closely linked to each other. Therefore the question automatically arises – is snow harmful for leather jackets?
As a matter of fact many people, without caring to dig for the correct answer, firmly believe that snow damages leather jackets. According to skilled and experienced leather technicians and designers the concern is partially valid. Jackets or clothing items made of leather work really well in snow provided those are properly cared for and maintained. In other words, snow has the potential to damage your stylish leather items if they are not taken proper care of.
One of the best reasons to invest in costly leather garments is they easily last a lifetime while braving harsh weather elements including snowflakes but only if you take the right kind of care. In the following section of this blog post let's explore few tips on how to take care of your leather clothing items in winter specially when it snows.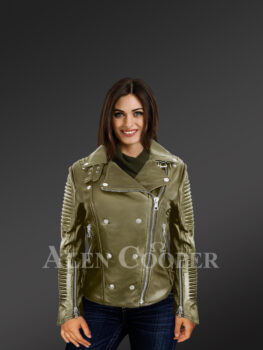 Tips to protect leather clothing items from snow and rain
1. Waterproofing sprays – this range of 'ready to use' sprays are widely available in the market, both online and offline. You just have to spray the substance on the outer layer of the jacket before going out. As a result neither raindrops nor snowflakes will sit on your jacket; rather slip away instantly.
2. Dabbing with towel – in certain situations you may forget spraying waterproof solution on your jacket before stepping out of home and get caught in a rough weather. Don't get depressed if you have to face such situations. There's still a lot you can do to preserve your favorite jacket. Take a soft, dry towel or piece of cloth and gently dab the leather item with it. Avoid using force and just try drying out the water droplets from the leather surface with little love and patience.
3. Place it on a hanger to dry – highly skilled and competent designers having years of experience in crafting leather jackets for women suggest hanging the fashion item on a wide wooden hanger for drying also proves effective. Do not place it in direct sunlight and nor should you leave at a place where there's no ventilation. The ideal place for this hanger treatment is a cool shady place with enough air passage. It's not difficult to locate such place in homes. The structure of the hanger that you choose is crucial here. If you choose a tool with wrong shape the jacket may lose its shape on the shoulders.
4. Using leather conditioners – thankfully there are more options than you can imagine to save your precious leather fashion items from all kinds of downpours – including rain, hail and snow. A leather conditioner used along with a waterproofing spray just work wonders on any leather clothing. Once the jacket gets totally dried in an airy and shady place apply little leather conditioner to it. This way you restore the natural oils to the leather that were washed away by the snow or rain. A good quality leather conditioner undoubtedly nourishes as well as moisturizes a leather item to extend its life longer.
Once you follow these procedures, your favorite leather fashion item is ready again to go out and protect you from every kind of harsh, unfavorable weather conditions.
Latest designing trends of women's leather jackets
Innovation and creativity involved in designing jackets made of leather have surpassed all precedents. Recently a striking range of these jackets has been launched into the market. Meant for stylish divas, the item range is unbelievably chic. The tastefully designed product line is crafted with lots of care and attention. The most striking feature that invariably adds to the sophistication of the item and captures instant attention is the stylish fur collar.
Authentic plates of sable fur imported from Russia are used in making the collar. You must be well aware that the Russian variety of the fur is softer, suppler and more superior in every other aspect compared to its Canadian counterpart. Russian sable also happens to be costlier.
The leather used in designing the item range belongs to the premium Italian-finish variety. It is very soft and lightweight as it is assured to last for years together with minimal care and maintenance. This variety of leather is processed with a lot of care and attention over a period of time using the best quality chemicals and oils that are manufactured in Italy.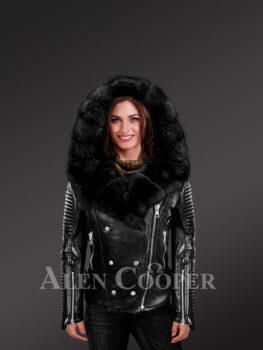 The product line – unlike the other versions in the market – is completely crafted by hands. It reflects the magic of genuine Italian craftsmanship. A group of highly trained and skilled designers based in Italy carried out the entire cutting and stitching using their hands. The item range thus boasts of absolutely flawless finishing.
Few of the innovative style features of the product line include zippered side pockets, front design snap buttons and stylish zippered sleeves. The leather comes with aniline finishing and its thickness varies between 0.8 and 0.9 mm. in short, the carefully crafted stylish jacket not only radiates unbeatable grace and sophistication but is also guaranteed to last for years and ensure value for your money.
You can wear it as a proper dress. The item is ideal to wear to different types of social gatherings or parties. Unlike the other varieties of the product this plush leather item guarantees perfect fit for everyone. The item is readily available in a wide variation of size.
Superior quality chromium-finish zippers are placed little on the left making the jacket look chic and feminine. Unlike other versions that are seen in the market this biker jacket is not only meant to boost your physical appearance but also overall persona and appeal.
Crafted by skilled and experienced pairs of hands, the product line is smartly cut and stitched to highlight the feminine curves and assets of your body in a tasteful and polished manner. This is indeed your best option to appear sultrier, sexier, smarter, younger, more confident, attractive, stylish, seductive, tasteful and sophisticated. As one of the best leather jackets of the contemporary times purchase orders for the item are flowing in from all sides. As a matter of fact fashion trends in leather are fast getting redefined.