An authentic shearling coat or jacket is no less than an investment. This range of clothing items is by no standard reasonably priced. Unlike other fabrics the item needs little more attention when proper care is concerned. Also popularly known as lambskin, the fabric is unquestionably long-lasting. Rather it is during the cleaning stage that the range of clothing items ends up getting damaged. Most damages occur in forms of loss of softness and insulating ability of the material.
Therefore you should be a little conscious while keeping certain things in mind while cleaning your favorite lambskin dresses. But before getting into the cleaning tips let us quickly recap certain facts in the following lines.
By default lambskin is durable; this range of dresses forms a part of family heirloom and is passed over to one generation from another. The range of dresses is also ideal for harsh chilly climatic conditions. It offers sufficient warmth and comfort in extreme cold. The inner layer of this variety of clothing contains the soft wool while the outer layer is formed of suede leather. As a result of these dual layers the item insulates you from cold better than many other fabrics. Moreover the fabric breathes naturally.
Cleaning stains from lambskin items
Stains no doubt look unsightly on this fabric. How do you remove stains from your favorite lambskin dresses? Here're few tips:
Mainly 3 types of stains are found on this range of clothing items. You have to recognize the kind of stain to take the necessary measure.
1. Raindrops or light spots: After being caught in a rainstorm the best thing is to leave the jacket on a hanger in a shady and well-ventilated spot to get dry. If any tiny print of raindrops is visible just use a cuff to rub the jacket with. Once the jacket gets dried at its own natural pace spray impregnating spray all over it.
2. Grease stains: This kind of stains pose a challenge. The best way out is to use a chalk because it absorbs oil. Select a chalk in the color of the jacket. Sprinkle the chalk on the stain and then brush off. Usually people have to repeat this procedure a few times back to back till the stain is gone. Spraying impregnating spray once the stain gets removed is solicited.
3. Other spots: Other than grease and raindrops your favorite lambskin coat may pick up other stain too. Experts providing professional Shearling care maintenance suggest if the jacket comes with a suede finish you can use a tape to remove the stain. Cover the stain with a piece of tape and just pull it off. This solution not only removes the stain but also dirt along with it. But make sure you're not rubbing because that also rubs the stain into the jacket. Lastly, you must have guessed by now, use impregnation spray for the final touchup.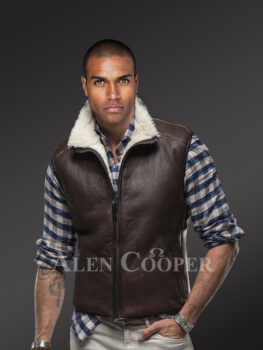 Tips to clean and care for lambskin fabric
Impregnation sprays and solutions: Treat your lambskin coats and jackets with an impregnation spray every time before wearing. This can be the same product that you use for your suede shoes and leather jackets. It is relevant mentioning here pretty soon this range of solutions and products will be readily available at Alen Cooper.
Protect from rain: It is okay if your costly lambskin jacket gets wet in rain. But you should remember that it is not a rain jacket. Therefore try saving it from rain and moisture as much as you can.
Avoid the sun: Never ever leave the item at a place where it is exposed to sunlight. Even placing the jacket behind a glass screen to avoid the direct sunlight is a strict no-no. Sunlight – direct or indirect – may discolor your precious clothing item. Rather always place it in the shade with sufficient air ventilation.
Avoid plastics and full warm wardrobes: You should never store your lambskin dresses in plastics. That prevents it from breathing, which is likely to lead the item to damage. Avoid full warm wardrobes for the same reason as well. Occasionally during off seasons you should take it out of the closet and hang it inside the room under shade for a little while. This helps the item to breathe properly and stay in shape.
Do not take it for dry clean frequently: Taking your lambskin coat for dry clean at frequent intervals needs to be avoided. The clean process may discolor the item.
Remove those tiny stains yourself: All those minute stains can be removed with a little care and caution. Apply very gentle pressure and make sure to use tools like a piece of tape or suede brush. Never rub the item too hard to achieve your goal.
No washing machine or drier: Never ever place your lambskin coats and jackets in the washing machine. These home improvement gadgets are not designed to handle this range of clothing items. Avoid a drier as well for the same reason. Usually this assortment of dresses requires dry cleaning. You may also consider air drying them.
Quick cleanings are good: Do not wait for the dirt and stains to settle down well on the surface. Rather clean the dresses quickly as soon as dirt and stains catch up.
Keep away from open flames: Lambskin dressing items are to be kept away from open flames. Even sources of high heat are to be avoided as well. Flame and high heat damage this range of clothing more than anything else.
Store the jacket spaciously: Experienced craftsmen designing exotic shearling coats for women suggest you should store your jacket spaciously inside the closet. Do not cram it tightly with other dresses. Allow some space for air to move around.
Use a proper hanger: It is important to correctly hang your lambskin dress. You should always use a proper hanger for the purpose – a one that is big and stout to hold weight. Do not ever drape your lambskin dress over a doorknob or any other rounded point to avoid ruining its shape at the shoulders.
In addition to the points discussed above make it a point to clean your coat in the spring. Make sure you give it a thorough cleaning to remove the winter solvents and salts that get accumulated on the surface. If those precipitations are not removed timely they sit on the costly dress and ruin it slowly but steadily.