Shearling or lambskin is always sourced from young lambs. This is where the fabric differs fundamentally with wool, which is sourced from fully grown sheep. Shearling has a luxuriously soft and supple texture. Moreover it offers significant warmth and comfort even in extreme cold. The item is pretty lightweight and easy to carry. On the other hand Silver Fox fur is renowned for its soft, supple texture and for being unbelievably lightweight. It is also ideal for harsh wintry climates. Both the items are pretty costly, highly fashionable, last for years together with minimal care and maintenance. As such both the items have heavy demand in the world of fashion.
Fresh fashion trends keep changing at fast intervals. However trends that are immortal and stand the test of time invariably involve immense innovation and creativity. Taking a cue from this universal truth a fascinating version of shearling jackets decor with authentic plates of fox fur is defining the latest craze in fashion for bold and stylish women.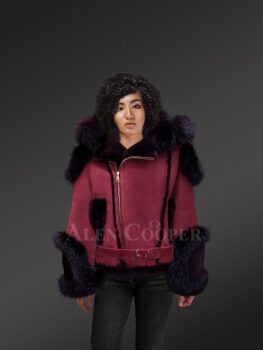 Shearling pelts that are used are sourced from Turkey in Europe are used in crafting the item range. As such the product line is completely crafted by hands. Elegant combination of fox fur and shearling pelts makes the jackets exotic. It is one of the latest specimens of fine Italian craftsmanship. The jacket range has an exotically soft and supple texture. Unquestionably lots of creativity and innovation went in designing this plush winter wear range.
Shearling hair is the jackets measure 20 mm in length.  This is the ideal length according to industry experts. Interestingly in spite of the very dense hair lambskin is pretty lightweight and easy to carry; this product line is no exception in that context.
A lot of love and care went in designing the jackets. As a result the clothing merchandises strike the perfect balance between aesthetic appeal and practical functionality. The jacket has a distinct hood richly decked with genuine plates of fox fur hood. This is one of the most striking features of the product line that capture attention. The shoulders as well as the rim of the wrists of these Suede-finish shearling jackets with fox fur hood and cuffs too are decked with the fur. This smart combination of fur and lambskin makes the item range elegant and unique
The jacket also has an inbuilt belt along the waistline. This element adds to the overall appeal making the jacket radiate unparalleled smartness. At certain places of the item you see that the inner woolen layer of the shearling is flipped and exposed. The places include waistline and this innovative approach adds a striking contrast to the ultra fashionable clothing product.
The innovatively designed item is unbelievably chic, appealing, elegant and stylish. It rightly belongs to a totally separate class of its own. There are spacious hand-warming side pockets to keep your palms warm and comfortable in outdoors during extreme cold climatic conditions when the temperature dips much below the ice point. As such the elegant dressing item offers significant warmth and comfort even in extreme cold. These are all exotic designing elements that contribute handsomely to a help the product line radiate powerful magnetic charm and unparalleled sophistication.
You can easily replace a proper dress with this innovatively crafted stylish shearling jackets for women with silver fox fur. The fashionable clothing item is ideal even at temperatures as low as -35 degrees F. The carefully designed item rightly showcases your delicate taste and elegant choice in fashion. The heavy-duty lambskin item is guaranteed to last long for years together. It requires minimal care and maintenance.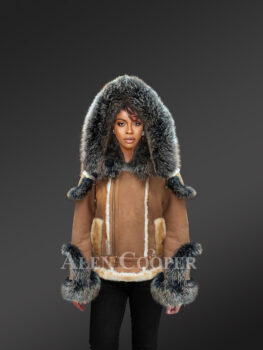 By virtue of smart designing you can easily wear the fashionable jacket to attend different types of social events or gatherings. Unlike the standard versions that are widely available this exotic shearling winter wear assures perfect fit for everyone without considering your height or figure. In other words which means the item is readily available in a wide variation of size.
A group of highly skilled and competent designers based in Italy performed the entire cutting and stitching. They worked with towering heights of care, caution, diligence and precision. The chic product line has absolutely flawless finishing. To cut a long story short no stone is left unturned in designing the suede-finish lambskin jacket to ensure greater value of your money.
Skilled and experienced pairs of hands carefully designed the elegant jacket range. It is smartly cut and stitched to highlight the feminine curves and assets of your body in an elegant and tasteful way. This is indeed your best bet to look younger, trendier, sexier, smarter, hotter, classier, more stylish, fashionable, refined, sophisticated, tasteful, and appealing. As a matter of fact till now only tan and burgundy colors are available although a range of other striking shades is likely to get launched any time soon.
Limited version item is fast vanishing away from the shelves at Alen Cooper. Buck up and place your order now. The stylish winter wear range seems to run out stock any moment.