Shearling or sheepskin jackets are unbelievably popular and fashionable. The item offers much warmth, comfort and insulation even in extreme cold climatic conditions where the temperature remains below the ice point for months together. The plush winter wear range is equally popular among both style conscious ladies and gents. Interestingly popularity of this fabric in human society dates back to the prehistoric times. It was ofcourse not called by its modern name back in those days.
As a matter of fact the item is categorically sourced from young lambs and not fully grown sheep. This is how it qualitatively differs from wool, which is sourced from fully grown sheep. The fabric is renowned for its exceptionally soft and supple texture. Moreover it offers sufficient warmth and comfort even in extreme cold climatic conditions where the temperature remains below the freezing temperature for months together. The fabric easily lasts for years at a stretch even with minimal care and maintenance. Considering all these factors it is obvious that the fabric enjoys sky-high demand in the global fashion industry.
In the following section let us briefly explore through the journey of the plush fabric across the timeline.
Use of sheepskin down the timeline
Prehistoric Stone Age: Some 6,000 years ago the early man used the skin of the domesticated animal to cover himself from various weather conditions. He chose it mostly because of the softness and warmth it offers. However back at those times technology was limited. Thus the raw skin of the animal was used for cover-up without any change.
Iron Age: Since the early days of human triumph on earth sheepskin fabric is a symbol of social status. If you own one then you will be easily recognized. The better the quality more costly the item is and ofcourse the more recognition you get.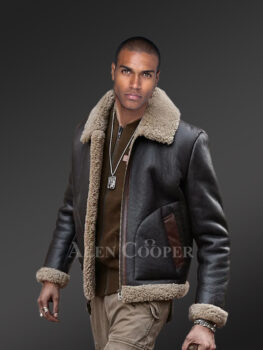 Medieval Age: Shearling leather jackets for men have been a quintessential fashion item in the Medieval Age. However this was also the time when the fabric got its maiden touch of design thanks to the nomadic tribe in Eurasia. They used it for lining their hats.
The Victorian Age: During the Victorian period European elites appreciated the winter coats made from the fabric. However those coats reflected a masculine design and the trend continued for quite some time.
The First World War: Sometime around 1940s pilots of fighter planes used to wear the B3 sheepskin leather bomber jacket as a part of their uniform. Gradually the stylish item got introduced to mainstream fashion industry.
1950s onward: This was the time when lambskin jackets and coats literally grew in popularity. Cinematic world of Hollywood has heavily contributed to it. A string of classic movies was released one after the other in which sheepskin jackets took the centre stage. Thus plush lambskin jackets became a staple item for any functional male wardrobe.
The 1980s and 1990s
However another significant turn came in the 1980s. This was the era when fashion industry witnessed the rise of the fabric in dark suede. The trend became a phenomenal success almost in no time.
Women took interest in thi8s plush range of winter wear only in 1990s. Female celebrities including rock stars and actors created fresh fashion statements with sheepskin dressing items.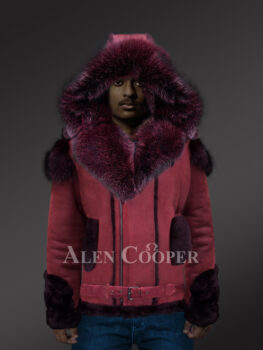 Latest innovation
As latest innovation in fashion trendy sheepskin jackets blended with fur in the hood is the ongoing trend. A range of these jackets has recently been introduced by Alen Cooper. Original pelts of sheepskin imported from Turkey are used in making the product line in one hand, while on the other authentic plates of fox fur are used in making the hood. The item range is luxuriously soft and supple in texture. It is also very lightweight and easy to carry. The stylish jacket provides much warmth, comfort and insulation even in extreme cold temperature conditions. As such it can easily withstand temperature as low as -35 degrees F.
The product line is completely crafted by hands. As such it is one of the latest specimens of fine Italian craftsmanship. Lots of innovative thoughts and creative ideas have gone into designing these jackets. The clothing range reflects unparalleled style and sophistication to belong to a completely separate class of its own.
By virtue of innovative designing you can wear the jacket as a proper dress. You can easily attend different types of social gatherings, events or parties in it. The item range rightly showcases your delicate taste and elegant choice in fashion. A group of highly trained and competent designers based in Italy carried out the entire cutting and stitching of the product. They worked manually involving towering heights of care, caution, diligence and precision. This is obvious from the absolutely flawless finishing the clothing assortment reflects.
In other words no stone is left unturned in product designing to ensure higher value of your hard-earned money. The innovatively designed jackets strike a perfect balance between aesthetic appeal and practical functionality. The length of the shearling hair in the jackets measure 20 mm. This is the industry standard length and is considered ideal. In easier words the product line is crafted from superior variety lambskin. It is guaranteed to last easily for years together with minimal care and maintenance.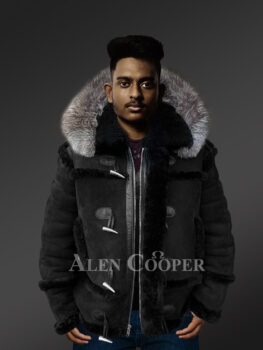 As already mentioned above this version of lambskin winter wear is designed with lot of love and care by highly skilled and experienced pairs of hands. The product range is smartly cut and stitched to silently but unfailingly underline those feminine curves and assets in your body in a tasteful and dignified manner. This is indeed your most assured alternative to appear smarter, trendier, sexier, younger, more stylish, dignified, elegant, sophisticated, tasteful and appealing.
This innovative range of shearling jackets for men is meant to boost both your aesthetic appeal and persona. However an equally striking range the product is available for women too. Please feel free to get in touch with us for more information.