Riding motorcycle is – no doubt – fun but you also need to take little precaution to keep yourself safe and comfortable. A leather jacket is one of the best things that properly care for the torso of a rider. Most importantly it provides adequate safety to shield you from those nasty cuts and wounds that are common while riding on the road. Thus an authentic leather jacket is a prized possession for any rider across the ages.
The history
This range of reliable winter clothing was first introduced in 1928. A designer named Irvin Schott designed the first prototype model and named it after his preferred brand of cigar – the Perfecto. Thus the trend that was set in motion as early as almost a century ago is still overwhelmingly popular.  Rather the clothing range is steadily rising in popularity. It is one of the most fashionable clothing items that not only riders but also others including actors, filmmakers, rock stars, sports personalities, musicians and other celebrities can afford to ignore.
However the design has become greatly modified today. And that is quite obvious considering the lengthy timeline in between.
Reasons riders prefer this clothing item
During harsh chilly months a jacket made of leather is one of the most reliable options for riders to stay warm on the road. It keeps you insulated from inside and thus the cold wind cannot bring much trouble.
However these days a range of these jackets has come up that is ideal for summer months. Made from cowhide this range of products keeps you cool during blistering hot summers. The leather is also properly treated so that the jacket is water-resistant to protect you from unexpected downpours. This particular variety of jackets helps your body retain the necessary fluid and as result you don't suffer from dehydration.
In summers when you ride a motorcycle wearing a cotton tee or any other lightweight apparel to stay cool and comfortable your body sweat evaporates fast. This way your body keeps losing the necessary fluid and you do not even realize that till the severe symptoms of dehydration show up.
The range of jackets discussed above prevents continuous sweating. There are also different varieties of these jackets that come with vents. You open those vents to allow little crisscross ventilation mostly around the underarms and the lower torso region.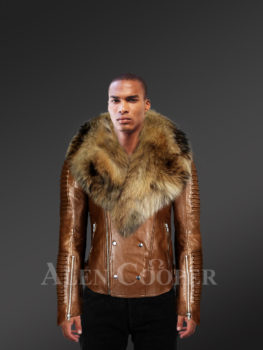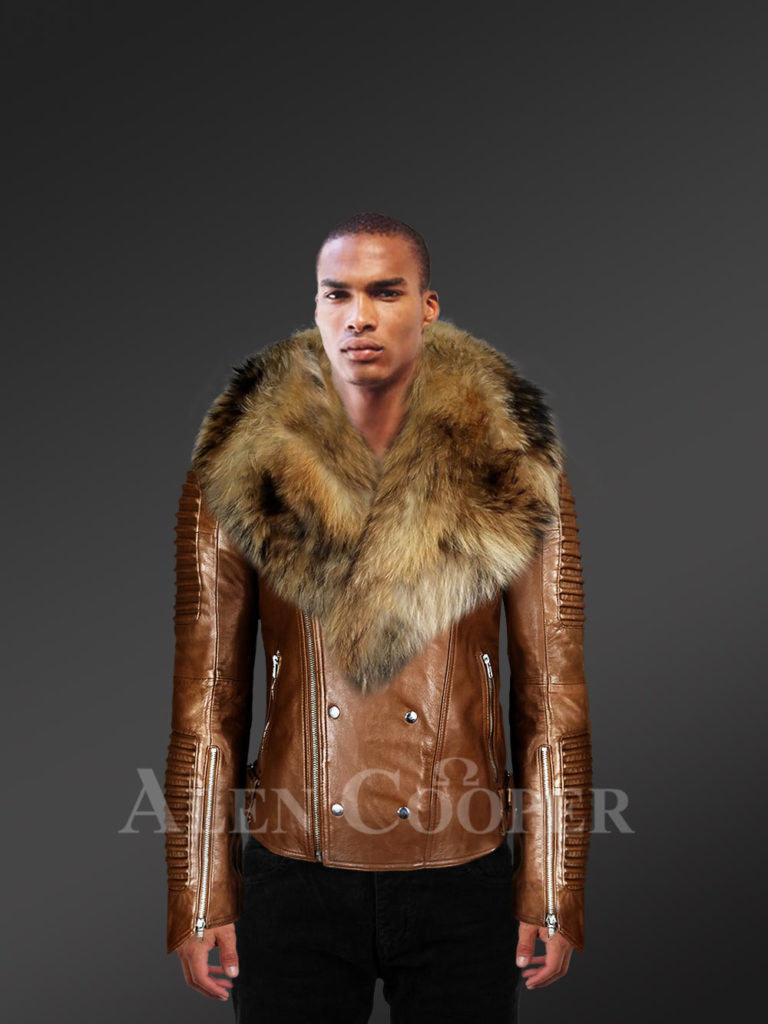 However when the latest trend is considered, leather Moto jackets with removable hood is the only thing that deserves to be discussed. We will get into that topic at proper time and place in the lower sections of this blog post. As of now let us quickly explore few interesting things.
By default leather is not waterproof although it is highly efficient in repelling water. In other words it means the range of stylish jackets is certainly helpful in preventing rainwater soaking into you while you are out on the road riding.
As already said earlier leather is also highly efficient in combating wind. Wind is something crucial for riders as it can easily make or break a ride quality any time.
Riders and kids have something in common. They both are prone to skinning their arms and elbows. It hardly takes anything more than a mild road rash to get you bleeding and in pain. And ofcourse your suffering is likely to be amplified by faster riding speed. So you need a right gear to minimize the pain and suffering.
A jacket made from genuine leather fits all the bills. Moreover is adds to your style and appearance.
But there are certain factors that you must be aware about when investing in these leather items. What they are? Let's find that out in the following paragraph.
Things to consider while wearing leather
1. The category of biker you belong to – Whether you are a daily commuter, weekend explorer, off-roadie, game for long road trips or prefer track days.
2. The cost factor – Buying a quality leather jacket is no less an investment. They cost anywhere between few hundred to several thousands of dollars. Therefore you must plan it smartly. Determine how frequently you ride. It is also important considering the usual conditions you ride in.
Hottest trend in blending leather with fur
Innovative fashion concepts have always been popular and trendy across the ages. Keeping in sync with that tradition the hottest trend in current fashion involves blending leather with fur. The biker jacket we discuss here is meant for divas. It has easily detachable Finn raccoon fur hood. Finn raccoon – as everyone is aware – is one of the costliest furs. The item is sourced from Finland and thus it got its name. It has a luxuriously soft and supple texture. The lightweight fur is renowned for offering sufficient warmth and comfort even in extreme cold.
This stylish leather item is strictly meant for bold and smart women who know how to carry themselves. It is designed with the intention to help those ladies standout distinctly in any crowd radiating sophistication and style. The product line is completely crafted by hands and involves towering heights of creativity and innovation. A group of highly skilled and trained designers based in Italy performed the entire cutting and stitching. As such this plush range of jackets boasts of genuine Italian craftsmanship.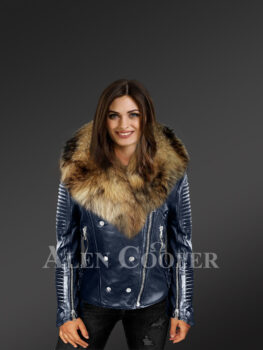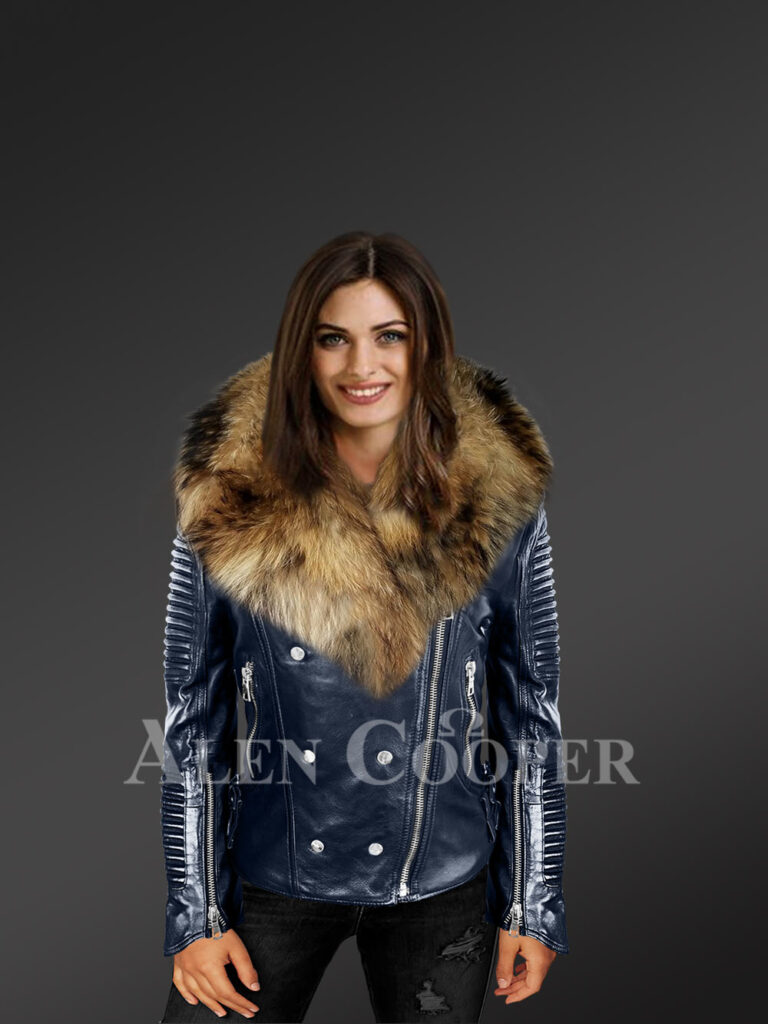 Detachable Finn raccoon fur hood is one of the most innovative features of this item range that deserves to be mentioned separately. On extreme chilly days when you need greater warmth and insulation you wear the jacket with the fur hood. Contrastingly on bright sunny days you take out the zippered out hood to wear only the basic leather jacket. Both ways – with or without the fur hood – you make equally appealing and sophisticated style statements.
The leather belongs to the Italian-finish variety and is very soft and shiny in texture. The item is guaranteed to last you years at a stretch even with minimal care and maintenance. Unlike the other versions of the item you can wear this jacket as a proper dress and can even attend different types of social gatherings or events in it.
As one of the most sought-after genuine leather Moto jackets, it has pipe-cut design with front design snap buttons, high quality chrome-finished zippers, piped and zippered sleeves. The item is readily available in a wide variation of size. Unlike the standard version this plush leather item guarantees perfect fit for everyone without considering individual height or figure.
Limited stocks at Alen Cooper are fast vanishing away. Hurry up and place your order now before the last piece gets sold out.